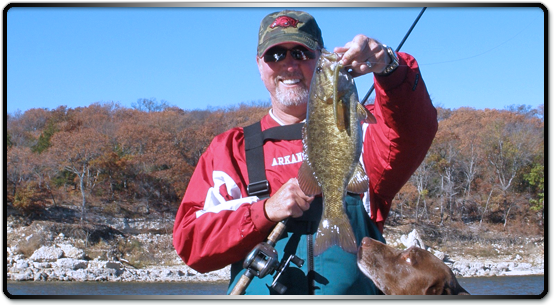 Meet Ken
Hometown: Dallas, TX
Hobbies: Golf, tennis
Favorite Lure: Swim bait
Favorite Technique: Pitching and Flipping
Favorite Lake: Falcon
It's mostly my grandmother's fault, I spent many days in my
youth sitting exactly one cane poles length to one side of her with my cousin
Wayne the same distance on the other side, swinging fish after fish to her to
remove and add another worm to my hook. Then in the spring 1978 my high school buddy from Little Rock Tim Nesterenko and I decide to graduate from fishing the
creeks around our houses to tournament fishing.
My first tournament I was a co-angler (or "Co-pro"
as my friend Billy refers to himself now) and my boater was a half hour late
after oversleeping. So many things stand out from that day over 35 years ago on
Ouachita, how incredibly fast a bass boat with a 115 hp could run, the
excitement of a new experience and the first (and only) bite of the day. Abu
5000 on an Ugly Stick, whatever line I had found and a buzz bait. Third cast a
7 lber came out of a bush about 10 feet from me and slurped it down. But the
most vivid memory was walking up the hill to the weigh in with that giant (hey
this was 1978!) in that bag, and the looks and comments as I walked to the
stage...needless to say I was hooked.
Fortunately my parents were wise enough not to let me take
my boat to college with me at the University of Arkansas where I received a
BSBA degree in Finance. And although I have worn a tie to work almost every day
for the last 27 years, I take if off every weekend to get back to my passion.
Over the years I have fished many individual and team
circuits including a run of 4-5 years fishing the Bassmaster Invitational's. These
days I fish a Walmart BFL circuit and the Bass Champs team circuit as well as
pot lucking local stuff on Rayburn and Toledo. My intent, and my plan, is to
stay local for the remainder of this year and most of 2015 and then fish the
Rayovac FLW Series and Bassmaster Open's with an eye to going back to fishing
at the national level in 2016-17.
In the last 18 months I have logged 7 top five
finishes in team tournaments (4 seconds in a row) and finished in the top 10 in
4 of the 11 BFL events fished. In 2008 I won the boater point's race in the
Walmart BFL Cowboy division and I currently lead the Okie division point's
race. I also am a regular writer/contributor to Gary Yamamoto's Inside Line
magazine. On a personal note I have two great step kids, two better dogs, carry a 5 handicap to the golf course where I can't play to it and am taller, more handsome and wittier in person.
Recent Accomplishments:
BFL Okie - May 17th, Lake Eufaula, OK - 6th place
BFL Okie - April 26th, Fort Gibson Lake, OK - 5th place
BFL Okie - March 29th, Arkansas River, OK - 14th place
BFL Cowboy - February 8th, Sam Rayburn - 19th place
Bass Champs - January 18th, Sam Rayburn - 5th place